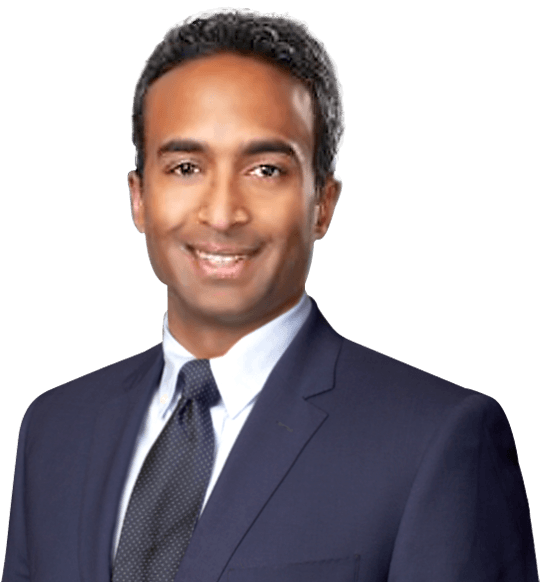 Veerabhadra "Babu" Reddy,
M.D.
Fellowship-Trained Orthopedic Surgeon Specializing in Foot & Ankle Surgery
Dr. Veerabhadra Babu Reddy was born in Madison, Wisconsin, and raised in the suburbs of Chicago. He attended the Honors Program in Medical Education at Northwestern University, where he also completed his surgical internship and residency in orthopedic surgery. Dr. Reddy completed a Fellowship at the OrthoCarolina Foot and Ankle Institute in Charlotte, North Carolina, where he gained expertise in the treatment of the entire foot and ankle, including forefoot reconstruction, complex post-traumatic and degenerative arthritis, and sports injuries in athletes. Minimally invasive foot and ankle surgery, total ankle arthroplasty and limb salvage surgery are areas of specific interest for Dr. Reddy. He is a Diplomate of the American Board of Orthopedic Surgery and a member of the American Orthopedic Foot and Ankle Society. Dr. Reddy is a Clinical Assistant Professor at Department of Surgery Texas A & M Health Science Center College of Medicine and Faculty at the Orthopedic Foot and Ankle Fellowship at Baylor University Medical Center.
EDUCATION
Education: Northwestern University c/o Feinberg School of Medicine (2002)
Medical School: Northwestern University C/o Feinberg School Of Medicine (2002)
Internship: General Surgery, Northwestern Memorial Hospital (2003)
Residency: Orthopedic Surgery, Northwestern Memorial Hospital (2007)
Fellowship: Foot & Ankle Surgery, Orthocarolina Foot & Ankle Institute: Nc (2008)
CERTIFICATIONS
Orthopaedic Surgery - American Board of Orthopaedic Surgery
RESEARCH & PUBLICATIONS
Calcaneus malunion and nonunion
Though the debate continues between operative interventions versus conservative therapy, there is significant evidence that the deformity that results from calcaneus malunions causes significant disability for the patient. Knowledge of the fracture patterns in the original calcaneal fracture aids in both understanding the deformity of the malunion and the necessary steps for correction of the deformity. Increased heel width, subfibular impingement, tibiotalar impingement, varus/valgus deformity of the hindfoot, peroneal tendon dysfunction, and subtalar arthrosis are well established consequences of calcaneal malunion. Different surgical options have been postulated either trying to address all the deformities or concentrating on certain aspects that are most clinically pressing. The simplest form of treatment is isolated lateral wall decompression, and if applied to a patient who has minimal subtalar arthrosis and no hindfoot deformity, good results are produced. The more complex surgical interventions aim to correct the lateral ankle symptoms, subtalar arthrosis, and hindfoot varus. These surgeries result in a more functional foot but should be considered a salvage procedure because there is still considerable disability as indicated by lower functional scores on the Short Form 36 and American Orthopaedic Foot and Ankle Society hindfoot surveys. Nonunion in calcaneal fractures has limited incidence within the literature for both operative and nonoperative management. Thus, any conclusion as to why there would be such a low incidence can only be made on speculation that the vascularity of the calcaneus and ability to immobilize both the subtalar and calcaneocuboid joints allow the fracture to heal.
Veerabhadra "Babu" Reddy, M.D.